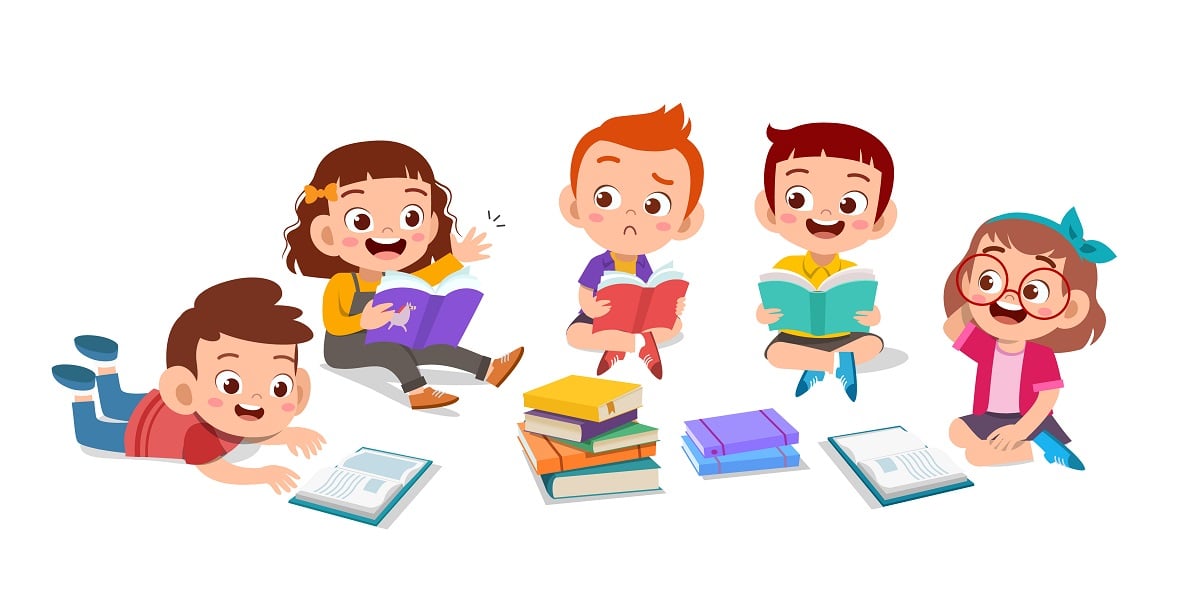 May is Share-a-Story Month, instituted by the Federation of Children's Book Groups in 1974, to celebrate the power of storytelling. By encouraging children's interest in books and reading, this month is a great opportunity to try new ideas to promote the value of story sharing. For example, have you tried facilitating book discussion groups with your class?
Book and story discussion groups are great for tapping into your students' interests while promoting literacy. When students are provided time with their peers to discuss stories, as an active observer you gain insight into what is important and relevant to them. To manage multiple groups, survey students on their favourite genres, topics, and attributes such as characters, settings, and writing style. Select a few books that you can use for direct and guided instruction such as character development, importance of setting, biographies, etc. Then have students group themselves according to book. In groups, they can select from a variety of questions to start discussions. Use conversation starters, such as those listed below, to help move discussions along.
15 Book Conversation Starters
What was the best part of the book? Why?
What was the worst part of the book? Why?
What other books or stories did this one remind you of?
Which character would you most like to meet?
If you could be a character in the book (existing or new) who would it be? Why?
If you could ask a character a question, who would the character be and what is the question?
If you could ask the author a question, what would you ask? Why?
Which places would you most like to visit?
Share a favourite sentence or quote from the book. Why did it stand out for you?
What were the different emotions you felt while reading this book?
What were the different emotions you felt after reading this book?
Did you like this book right away or did it take some time? Why?
What did you think of the ending of the book? Was it an ending you expected or was it a surprise?
What songs does this book make you think of? Why?
Why do you think the author wrote this book?
Of course, these are just a small sample of book group conversations starters. Add to them with students' input. As you listen to their conversations, new questions may come up that can be shared with the rest of the class.
If engaging in book discussions is relatively new, facilitate a whole class book discussion to model. Choose a specific line from one of the books and ask students to comment on it. If students are remote or hybrid learning, have students use a screen mirroring app to share comments from their mobile devices to the front-of-class interactive display. Save comments for future discussions.
Another idea is to write the conversation starters on index cards (Tip: print them on address labels and stick a starter on individual cards; make multiple sets). Give each group some of the cards then each member of the group takes a card and responds to the starter. Model how this should go with a small group demonstration and encourage students to ask questions if they are unclear about the process.
Use classroom technology to optimise discussions. For example, use a simple doc camera to make any book a 'big book.' On the front-of-class display, help students identify words used to accelerate the story, transition phrases, or analyze a character through their dialogue. If the class is equipped with an interactive flat panel display, use educational apps that feature stories or include content aligned to curriculum objectives. These apps can be used to open or close discussions, providing a smooth transition between subjects or activities.
Whatever you use to promote story sharing and storytelling in the classroom, this is a great opportunity to foster a love of reading and create confident readers. When students can talk about books and stories that are special to them, the desire to do this with others and more often grows. So have fun with Share-a-Story Month and get reading!
For information on how Boxlight education technology can boost student engagement in your classroom, go to global.boxlight.com.