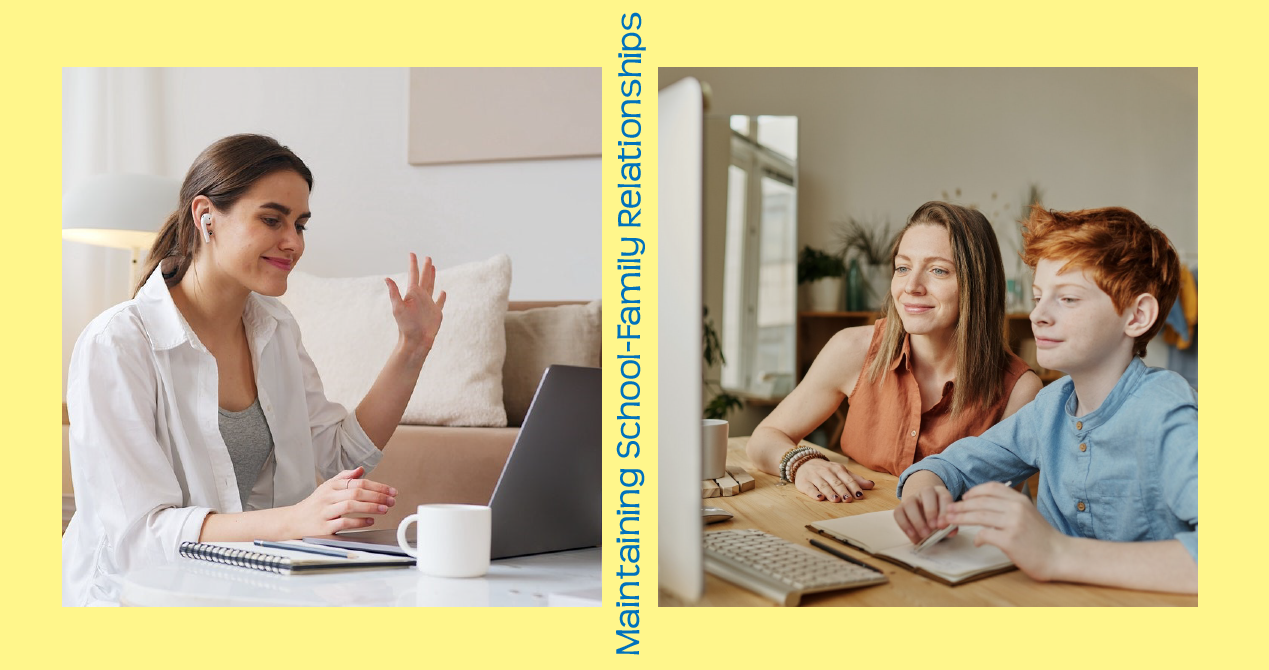 When I was teaching, I really looked forward to parent conferences. Each of my students had a folder filled with assessments, writing samples, and other pertinent evidence of learning growth (or needs for improvement). Students facilitated their conferences, talking about what was in their folders, thus gaining a sense of accountability and ownership of their learning. Afterwards, I would talk with the parent(s), grandparent(s), or guardian and inevitably get to know about other family, their work, and family plans. Parent conferences gave me a sense of deeper connection to my students through their families. That connection would start a bit at the beginning of the school year introduction, but a one-on-one, sit down conversation was much better than the 30-minute "this is who I am and what I expect" presentation.
Building and fostering relationships with the school community is vital. But with most schools re-opening with a blended learning approach, how will everyone stay connected when they are not always physically present? How will the different members of a school community – administrators, teachers, students, parents, support staff – feel connected?
To be sure, there will be added responsibilities because of the distance teaching part of blended learning and communication is not 100% guaranteed for a variety of reasons. In a study conducted by Learning Heroes (belearninghero.org), parental appreciation for teachers grew during school closures and they generally felt more connected to schools, but few felt they were receiving communication in methods most helpful to them, such as phone calls and texts. (For more on this study, click Learning Heroes Survey Results.) In addition, there are the feelings of exhaustion and mental stress from parents and teachers having to take on roles they were not adequately trained for, or even wanted. Yet, they persevere because, ultimately, it is the children's well-being and success that matters most.
Below are suggestions on ways to maintain family-school connections and relationships:
Regularly check in with parents via email, phone calls, text, and video posted on the class/school YouTube channel. There are also Instagram and Facebook tools for messaging and posting live videos. Younger students especially want to see their teachers so videos directly addressing them are comforting.
Schedule regular conversations with parents and students using a video conferencing tool such as Google Hangouts, Microsoft Teams, or Zoom. These face-to-face conversations go a long way in nurturing relationships and creating a culture of empathy.
Encourage parents and students to ask questions, voice their thoughts, vent if need be. Yes, this may sometimes be taxing, but ultimately, everyone will have a better understanding of what is needed to move forward.
Provide a weekly/monthly newsletter (paper and/or digital) with clear and simple instructions for accessing tech and online assignments, suggestions for enrichment and extension activities, and links to resources and videos to support learning at home.
Make social-distanced visits on students and have short conversations with them and their parents, offering help as needed. Besides strengthening that class community connection, teachers have found that this has helped them to cope with not seeing their students daily.
With blended learning environments appearing to be a choice for quite a few schools in different countries, maintaining strong family-school relationships and communicating clearly and frequently within school communities is essential.
To read more on Blended Learning Models and distance teaching: