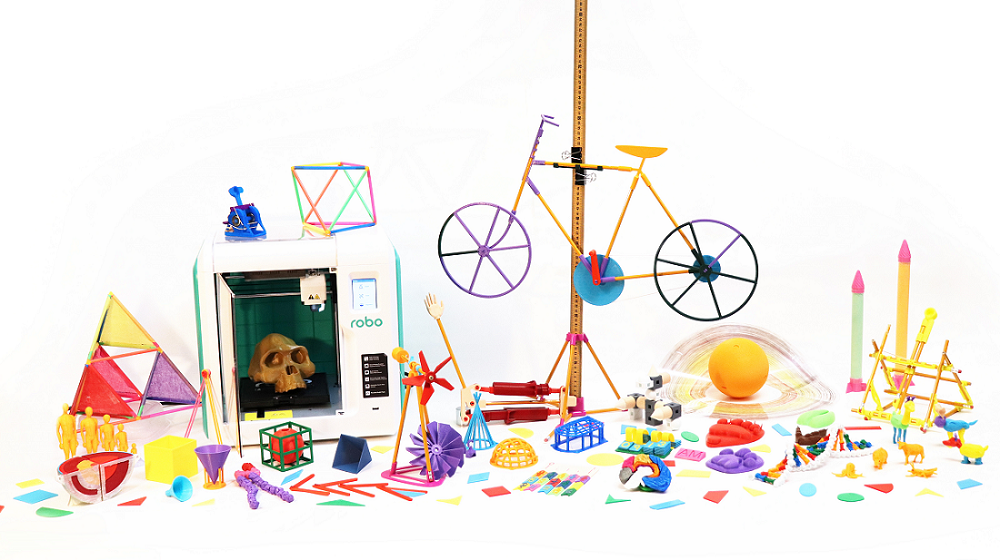 Integrating new technology can be very intimidating. It is important to approach educational technology in a way that looks and feels successful. Robo3D and MyStemKits help educators feel that technology can be integrated effectively by providing an end-to-end solution for STEM learning. By pairing 3D printing technology and research-based pedagogical techniques, educators can use this Boxlight STEM solution to enhance 21st century learning.
Robo 3D provides 3D printers designed specifically around the needs of a classroom to allow hobbyists, teachers, and students to engineer and create solutions on demand. The technology of 3D printing helps teachers create affordable, custom manipulatives while giving students the opportunity to become engineers. From helping run and maintain the 3D printer to designing, printing, and testing their own creations, students get a chance to learn about engineering, iterative design, troubleshooting, and problem-solving. This process empowers them to solve problems, explore new ideas, and manufacture solutions — all vital 21st century skills.
The 3D printer has completely revolutionised my classroom. With filament and the wherewithal to get files to print, I can do almost anything. It's very empowering as an instructor. And the student engagement has just been awesome. Thank you all for making my year!
— Daniel Stauffer, Middle School Teacher, Orange County Public Schools, Florida, U.S.A.
MyStemKits develops K-12 curriculum for standards-driven instruction and 3D-printable manipulatives to create a complete STEM solution. In addition to being the world's largest library of 3D printable kits and curriculum designed specifically for K-12 STEM education, the lessons, activities, and design challenges are researched-based and aligned to Next Generation Science Standards. Based on the newest research on what works and how to engage students, the lessons and activities helps create a solid foundation in STEM topics to create the greatest impact in the classroom with the least amount of work required on the part of the teacher.
Many of the kits are interdisciplinary, for example reinforcing science concepts with maths topics, thus integrating STEM topics in a practical way. Because the activities endeavour to replicate the complexity of the world, the curriculum helps prepare students for the challenges they will face in the workplace. Content focus is on real-world, hands-on learning designed to promote deep conceptual understanding so that students are equipped to succeed in the 21st century.

Robo 3D provides the technology, the flexibility, and the support to optimize the 3D printer for any K-12 classroom while MyStemKits provides the content to put it to use. From design challenges to hundreds of pre-designed lesson plans and 3D-printable models, integrating 3D printing into the classroom has never been easier. Combined, Robo 3D and MyStemKits focus on authentic interdisciplinary education and nurturing integral skills necessary for success in the 21st century such as creativity, critical thinking, collaboration, and communication.
"The idea that you give kids at a young age the ability to render things in 3D and they'll be able to transfer that one day to the manufacturing field is fantastic."
— Alexandra Vlachikis, Career and Technical Educator Executive Director
To see how teachers have used Robo 3D and MyStemKits in action, choose from this playlist: Teacher Testimonials – Robo and MyStemKits
For more information on the Robo 3D and MyStemKits solution, go to global.boxlight.com/robo.
Due to remote learning needs, there are Virtual STEM Kits available.