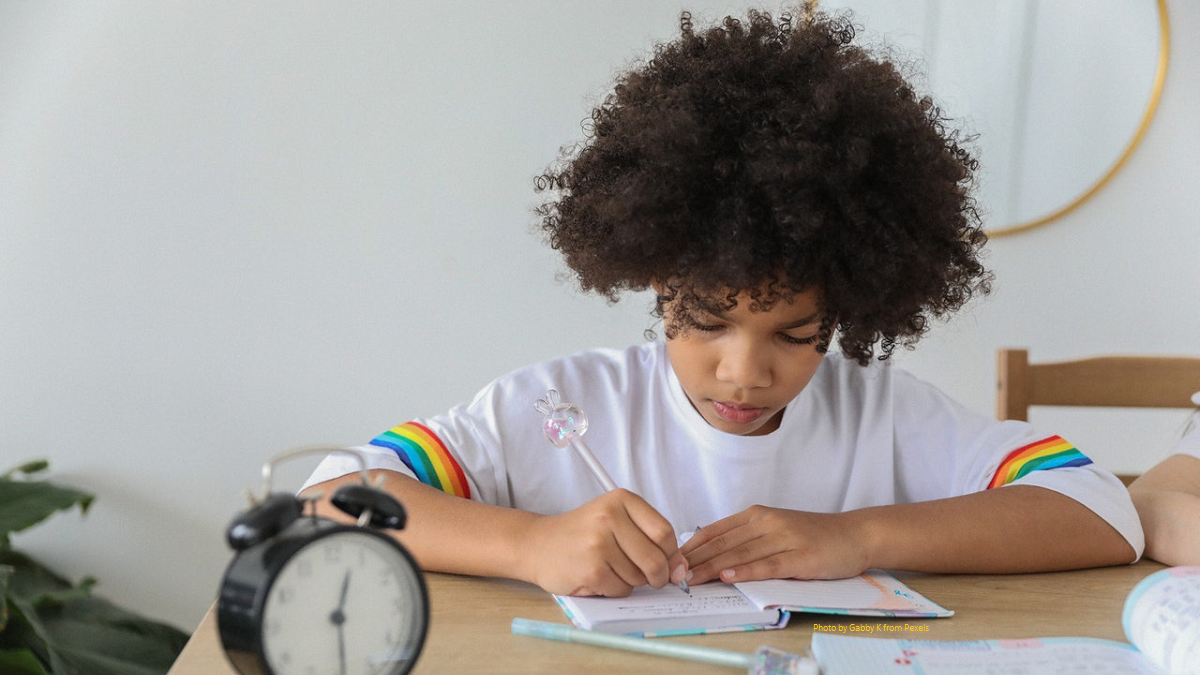 World Poetry Day will be celebrated on March 21, 2021 and now is a perfect time to incorporate poetry lessons in your classrooms. Established in 1999 by UNESCO, the purpose of World Poetry Day is to promote poetry reading, writing, and teaching, as well as encourage the relationship between poetry and the other arts such as dance, music, painting, and theater. What are some elements of poetry study to remember? Poems can rhyme, but don't have to. Poems can be broken into stanzas, which are like paragraphs, or they can be as short as a few syllables per line. There are different types of poems such as ballads, free verse, haikus, limericks, and sonnets. There are poets and poems to research from every century in history, with the earliest poetry believed to predate written language to concrete poems that arrange words into a shape.
Below are some poetry activity ideas, great for any learning environment – in-class, remote learning, or hybrid learning. Remember to model the first poem, using the "think aloud" method to work through the writing process. Students should see that writing a poem takes time and includes revisions. You may even consider writing a poem with the class or having them write in small groups before having them try writing on their own.
Acrostic Poems
Acrostic poems follow a specific format, although they do not have to rhyme, making this a perfect "starter" poetry activity that can also be integrated in other subject areas. Choose a topic-related word and write vertically in all caps. Each letter will begin the poem's line, relating to the topic.
Waves crash on the sand
Always rippling day and night
Touched by the sun during the day
Earth's creation drinks in its refreshment
Rotates through a cycle from the earth to the sky
Blackout Poems
A blackout poem starts with an existing body of text (page from a book, magazine, or newspaper article) where writers can choose words for their poem. The rest of the text is "blacked out" using a black marker and the remaining words become the poem. Have students use pencil to underline the words they want to use, reminding them that the words not blacked out are used for the poem and must be read in order.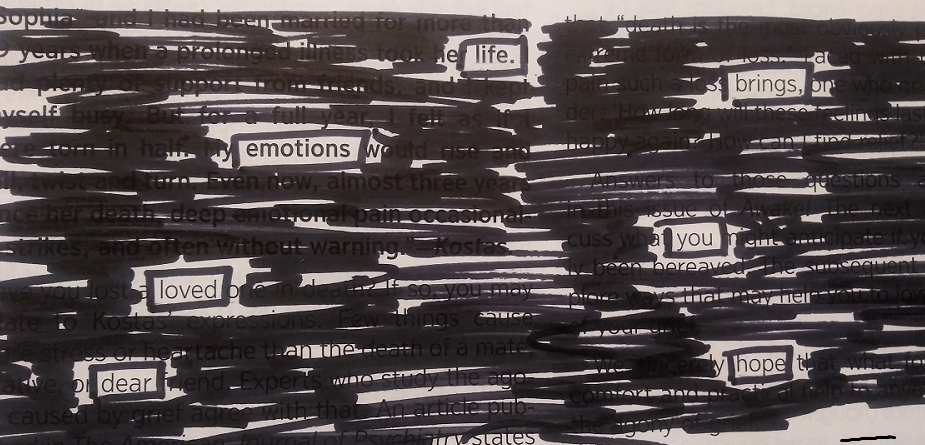 Concrete Poetry
A variation of this poetry style is to have students draw a picture and they fill it with poetic verse. For example, in a study of rainforests, have students draft a poem about an animal that interests them. Then, draw a picture of the animal and fill in the drawing with the words of the poem.
Couplets
Couplets are two lines of verse that follow one another and are connected by rhyme. For example, this couplet is from William Shakespeare's Romeo and Juliet –
"Good night! Good night! Parting is such sweet sorrow.
That I shall say good night till it be morrow."
A variation on this style of poem is writing a partner poem. In a pair, each student writes one line of a poem. For hybrid learning or remote learning environments, the MimioConnect® blended learning platform has a collaboration tool so that the teacher can select students to add to what is on the interactive display or screen. Use this platform to facilitate a guided lesson on this style of poetry before having students pair up.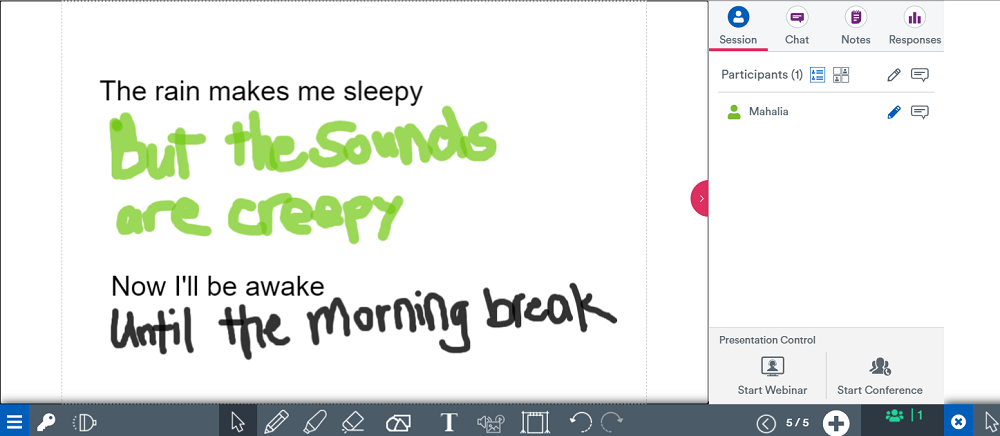 Haiku
A haiku is a Japanese poem made up of 17 syllables in three lines – 5 syllables, 7 syllables, 5 syllables. Traditional haiku poetry should have a reference to seasons or the natural world.
Morning sounds are songs
Melodies of life and love
Feeling peace early
Picture-Inspired Poems
For a class read aloud, use a wordless picture book. As you turn each page, allow students to share observations about what is happening in each picture. Encourage them to jot down some of what their thinking, even if it's just a few simple words or phrases. After the read aloud, have students write a poem for each page. Here are some wordless picture books to add to your collection:
Mirror by Jeannie Baker
Journey by Aaron Becker
Flashlight by Lizi Boyd
Wolf in the Snow by Matthew Cordell
Pool by Jihyeon Lee
A Ball for Daisy by Chris Raschka
Fossil by Bill Thomson
Flotsam by David Wiesner
Music as Poetry
Have students analyse a favourite song and identify elements of figurative language and poetic devices. They can look for examples of alliteration, metaphor, and simile. Remind students to name the song title and songwriter and/or singer, as well as an overall message or theme that the song is attempting to convey. You can also challenge students to write an additional stanza or an alternative chorus to the song.
Let your and your students' creative juices flow this week and please share! #mimiopoetry
For more ideas on ways to incorporate poetry in your lessons, check out the resources by The Poetry Society here.
To learn more about Boxlight solutions for interactive and collaborative learning, including the MimioConnect blended learning platform, go to global.boxlight.com.